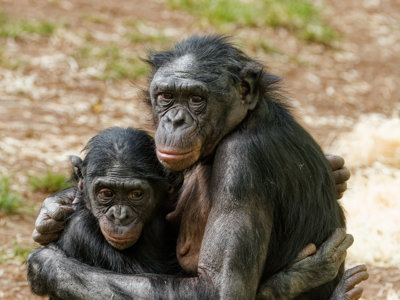 Twycross Zoo is the the only zoo in the UK, and one of only four worldwide, where visitors can see all four great apes – gorilla, orangutan, chimpanzee and bonobo.
All of the great apes are very different, however bonobos are female-led and known for their caring and affectionate nature. As a group they are always quick to make up with one another and their nurturing behaviour sees them holding hands and hugging, which is why World Bonobo Day also falls on Valentine's Day.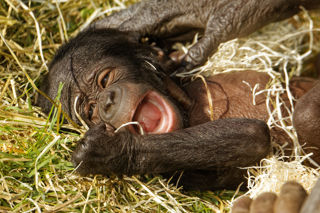 Bonobo populations are undergoing significant declines due to habitat loss and hunting and populations are becoming increasingly small and fragmented.
Twycross Zoo is home to 10 percent of the entire European population of bonobos. We work closely with The European Association of Zoos and Aquaria (EAZA) Ex Situ Programme (EEP) to ensure a genetically and demographically healthy population. (Correct as of February 2022).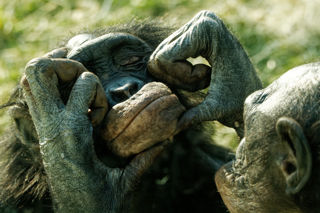 Twycross Zoo works with partner organisations across the globe such as Friends of Bonobos in the Democratic Republic of Congo.
Through the Conservation Welfare fund, Twycross Zoo contributes to the daily running of Lola ya Bonobo, the organisation's sanctuary for more than 70 orphaned bonobos. Twycross also supports Friends of Bonobos' 120,000-acre protected reserve where they have successfully rewilded more than two dozen bonobos so far.
Key Facts:
Twycross Zoo is the only zoo in the UK with a bonobo ape species.
Bonobos are our closest living relatives.
Bonobos are currently endangered in the wild due to habitat loss and the illegal bushmeat trade, with less than 20,000 left in the wild.
Accelerating deforestation, primarily for subsistence and commercial agriculture, threatens to wipe out bonobos' rainforest habitat in the Democratic Republic of Congo by the end of this century.
Bonobo groups are led by a dominant female – the only ape species with this hierarchy.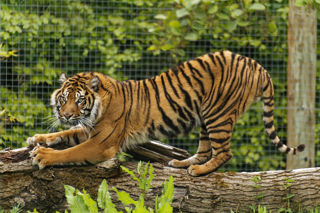 SUPPORT OUR ANIMALS
If you're looking for an alternative way to donate to Twycross Zoo, you can help support our animals and our zoo keepers by purchasing something from our Amazon Wishlist!
Updated regularly by our zoo keepers, the items on the list help to provide enrichment for our animals and keep their habitats well maintained.
Every donation helps us as a conservation charity.